"I had been struggling over many years with motivation to lose weight and keep it off. I've tried a variety of diets and am a Weight Watchers lifetime member.

I've lost 12kg and maintained my goal weight. Having the hypnotherapy recordings and food plan to refer to any time I need them is invaluable and well worth the money I invested. My metabolism has improved as I feel genuinely more satisfied and less hungry in a way I haven't felt for a long time.

My struggle with alcohol is greatly reduced to an occasional thought, and I'm feeling so much more peaceful in my body and mind."
"As a sports enthusiast, maintaining a positive headset in a game situation is a big help to the outcome of a game; personally and to the team.

HypnoFit trained my mind to realise a champion mindset when I need it most, my performances past treatment have been test of that and HypnoFit has passed with flying colours.

I have a way to think like a champion thanks to hypnofit; now I can enjoy my sport and feel like a champion. THANK YOU!"
"I don't think anything is as personally suffocating as being filled with anxiety. Most of us, myself included, become quite adept at stuffing these feelings until we simply run out of room.

Helen helped me visualise, look at the source, put things into perspective, and dissolve my anxiety. I highly recommend Helen, and will definitely return for tune-ups!"
"Sometimes…okay most times, you need someone who can help you unlock the chain that stops you from living life to the fullest. Hypnofit helped unlock my chain for me. I had smoked for 30 years. Now I don't smoke, and now I feel good. I feel in control and that's nice! Helen also takes time with her clients – she is extremely thorough, caring and professional."
Claim your free 30-minute strategy session with our specialist and transform your life today!
We have extensive experience in helping clients with weight loss, anxiety, depression, smoking,
addictions, performance anxiety and a host of other challenges. Get in touch for a confidential chat.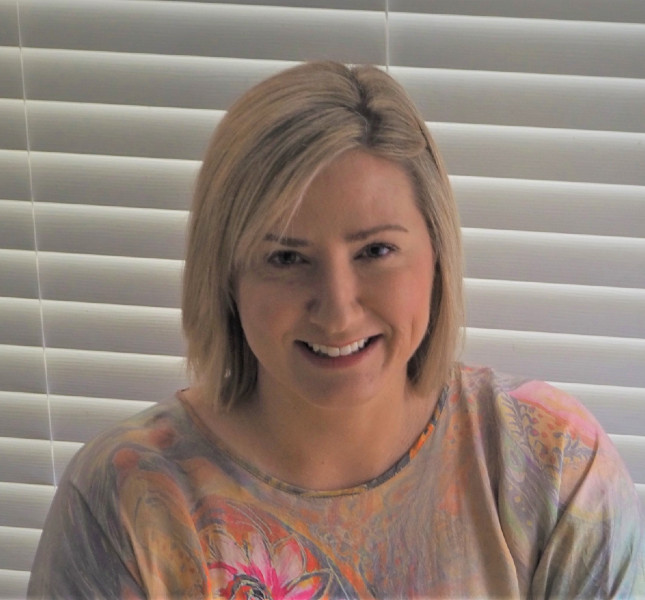 Senior Hypnotherapist, HypnoFit® Port Stephens NSW
Anxiety, Depression, Stress, Fear, Emotional Blocks
Rebecca helps women all over the world transform their lives from her online office in Port Stephens, NSW.
She's has studied at the Institute of Applied Psychology and most recently completed the Hypnofit Therapist Certification with Helen Mitas. Rebecca spent 20 years in the Royal Australian Air Force before deciding on a career change and followed her desire to help women transform their lives with Hypnotherapy.
Rebecca helps those who feel overrun by emotions such as anxiety, depression, guilt, anger and frustration. By dissolving the hidden internal blocks that are keeping you stuck on that eternal emotional roller coaster you can finally live a life full of confidence and purpose.
If you are looking for personal growth, are ready to improve your current situation and take responsibility for your happiness but don't know where to start, contact Rebecca.
Curtis, South Sydney
Anxiety
"At the start, I was in a pretty dark place. I was having suicidal thoughts to the point that I was put in the hospital. My sister reached out to Frances, and I came into the sessions pretty open-minded. I've done five sessions now, and I've dealt with my emotions and my grief. I'm quite grateful for everything I've got in my life. I'm positive and attracting nothing but good things lately. I'm quite happy about my experience. I can look back at those times in my life and feel like I've dealt with them."
"For the first time in my entire life I know what it's like to be truly Rachael - to feel calm and relaxed. To know I can say no because it doesn't feel right or to say yes and embrace something because it feels right. I can now move forward in my life and embrace every opportunity. Helen has been a great guide and mentor to help me get to this place. The process is easy. The only thing you need to bring is the willingness to believe change will happen."
"About six weeks ago, I decided to come along to see Helen regarding issues from my young childhood that I could work through. I was hoping for the benefits to reduce or come off antidepressants. I've found Helen to be such a caring and compassionate lady and very professional and knowledgeable. I had severe clinical depression, and I've halved my medication. I'm feeling fantastic - like a weight has been lifted off my shoulders."
"I really wanted to give up smoking, and I needed someone to help me. It's the best thing I've ever done. From that, I realised I needed help to be a better person in myself and not be so angry with the world. I've just done a five-week program with Helen, and all I can say is it's really changed my life. I feel happier, see things differently, and I'm not so hard on myself. I feel like my old self when I was a young girl."
"Eighteen kilos ago, I never would have thought I would be this happy. I was sad and depressed and didn't want to come out of my bedroom. I don't know how to describe the feeling right now. I didn't think this would ever happen to me. I was always a bit against counselling and hypnotherapy; I didn't even know what it was. Hypnotherapy has been a real experience and has turned my life around."
Claim your free 30-minute strategy session with our specialist and transform your life today!
We have extensive experience in helping clients with weight loss, anxiety, depression, smoking, addictions,
performance anxiety and a host of other challenges. Get in touch for a confidential chat.
HypnoFit® Port Stephens Clinic
In clinic and virtual sessions by appointment.
Frequently Asked Questions
Rebecca is based in Port Stephens. However, she doesn't have a physical clinic location. Location is no obstacle. You can access treatment from the comfort of your own home or from anywhere in the world.
Ultimately, the goal of any therapy is to increase positive emotions. Hypnotherapy effectively and rapidly allows for a change in the ratio of positive to negative emotions in a person's life in favour of the positive ones. It is the change in your emotions that allows you to achieve particular aims such as losing weight, quit smoking, reduce anxiety and depression etc.
You will be given some tasks to complete as part of your program that help facilitate the change you are looking for. Don't worry, these are simple tasks and we work as a team to achieve your ultimate goal.